13-Oct-2016   SBS is proud to announce the release of version 4.45 of our Quality Database.  This new release includes new  SWOT Analysis features.  SWOT Analysis analyzes a business's Strengths, Weaknesses, Opportunities, and Threats, making it ideal for the new requirements of ISO 9001:2015.
With FMEA (Failure modes Effects Analysis) used for process/product level risk analysis and SWOT analysis used for business opportunity analysis or competitive analysis, a company can easily demonstrate compliance to the risk management requirements of ISO 9001:2015 and ISO 13485 and complies with ISO 14971.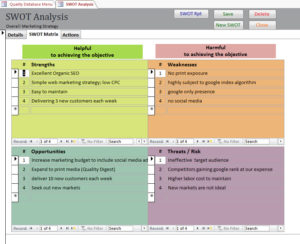 Click here for free demo downloads.