SBS Training Database is ISO 9001 compliant software used to track employee training events, position requirements, certification, and re-certification. Report training gaps and key metrics.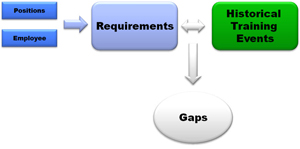 Manage Training Records
Define Job Descriptions / Roles and Responsibilities
Define Training requirements

by position (standard training for each position)
by employee (special training for each employee)
for the release of controlled documents

Certification Requirements
Re-Certification Requirements
Document revisions trigger training requirements
Email Reports directly to affected employees
User login: define user passwords and privileges

Build a simple and efficient Quality Management System (QMS / eQMS)
Efficient and cost effective

Simple, low cost solution
Saves time and improves efficiency

Effective training management

Define roles and responsibilities for each position
Determine required training for each position
Report the status of your workforce with a click of a button
Archive training / certification test results

A vital tool to ensure ISO 9001:2015, AS9100, or ISO/TS 16949, API Q1 compliance

Paperless: Scan and link class rosters, written tests, or other electronic documents
Stop chasing paper

Note: For the demo version, log in as employee = Admin  Password = admin
Download the FREE DEMO, if you have Microsoft Access 2007, 2010, 2013, 2016/Office 365 (32 bit or 64 bit) installed.
If you want a PowerPoint presentation showing features, benefits, set-up and use, download the PowerPoint.
NEWS!
: SBS Training Database version 3.40 was released 05-Jan-2017.
Click here
for more details.

Individual User License:
$295
Unlimited User License
$1200
Unlimited User License
$2200
Licensing is based on concurrent or simultaneous users – not CPU based.
No annual maintenance contracts are needed!
Additional users may be added at a later time by simply purchasing and entering a new activation code.

SYSTEM REQUIREMENTS – SBS Training Database

Microsoft Windows XP, Vista, Windows 7, Windows 8.x, or Windows 10
64 MB of RAM
40 MB of available hard disk space
Microsoft Access (f you do not have Access installed, you may download a free runtime version from Microsoft by clicking here.)